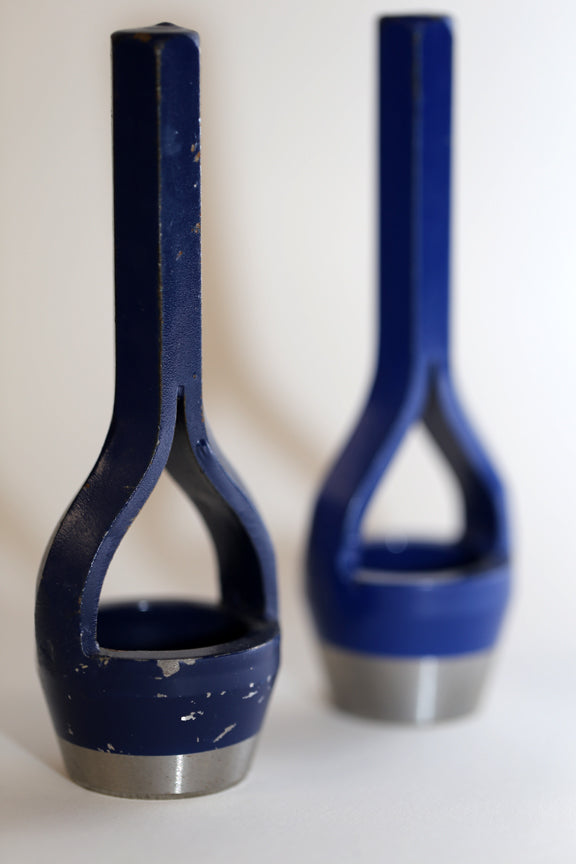 Leather Craft Cutters for leather circle cutting SPECIAL**
Set of 2 Leather cutters.  Cut sizes: 1-3/16" & 1-5/16"  Ideal for leathercrafters and clothing makers who need to cut out leather circles.  The blades will cut other materials but they are designed for leather crafts. These leather craft tools are made in USA.
These cutters were manufactured by O'Brien in Lewiston, ME. USA. These leather craft tools you use with a rubber mallet NOT a steel hammer!!
Some Tips to Consider When Buying Used, Second-Hand, Refurbished Button Maker Machines, Graphic Punches, and Other Button Making Equipment:
Look for solid metal machines and do your homework! If someone says "Oh it is super easy to get parts" or "You can get 1" parts anywhere!" make sure they can show you or that you can see that for yourself. People will say anything to offload a used button maker, especially if it is not a great machine or something that take a lot of money to use. Call the company directly to be sure their parts will fit your machine. Avoid machines made in China as they don't last long, are usually made of plastic and parts are expensive and hard to find!
If looking at buying a circle cutter used: Check it out and test it if possible. Buy from trusted source. And ask a few questions: Does it need blades? Are there other replaceable parts? Are those parts easy to get? Are they priced reasonably? 
If buying a used button maker: Test the machine! Make 10-20 buttons to get a sense for how it works. Ask the same questions as above plus a few more: What kind of parts does the badge machine use? Are those parts easily available, priced reasonably? Sometimes a great deal on a used machine is quickly erased when trying to source super expensive parts. 
Used leather craft equipment. # 385694   2x leather circle cutters