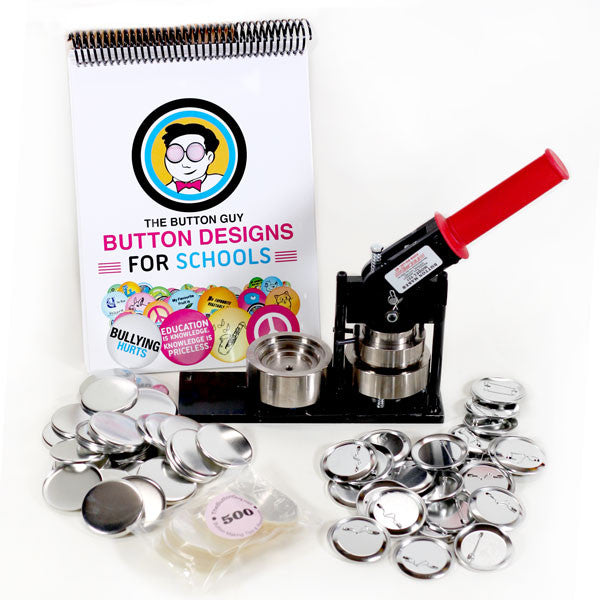 2-1/4" Button Maker School Kit includes FREE School Artwork & Design Book
A kit designed for schools with more than 500 designs helpful to educators with button designs relevant to bullying, school election buttons and a variety of issues relevant for schools. See below.
The 2-1/4" is probably the most popular button size for general use. A good standard size election button.  Great for kids to "draw their own" and used frequently for button making workshops and at events.  The 2-1/4" has the largest selection of stuff you can produce with your machine, including and exclusively bottle openers and as well as mirrors key-chains and magnets,  The 2-1/4" is the largest button in the smallest price bracket meaning maximum bang for your buck! 
What comes in the box.
1        2-1/4"      #225     Tecre Button Maker
500    2-1/4"      complete button parts - everything you need to make 500 2-1/4" pin buttons.
1        2-1/4"      School Artwork and Design Book 500+ designs. See below.
1000  2-1/4"      Pre-Cut Circles for "Make your own button workshops"
1        2-1/4"      Manufacturers Warranty & Instructions

The Model #225 can also produce 10 different products!
-Pin Back Buttons
-Collet Back Buttons
-Prong Back Buttons
-Mirror Back Buttons
-Magnets
-Key Chains (3 styles to choose from)
-Bulldog Clips
-Bottle Opener
Size: 10" x 3" x 6", Weighs approximately 10 lbs
Use with optional Graphic Punch Model #2625
Button Maker is all metal construction with no plastic parts. Made in the U.S.A.
This product has a lifetime warranty from the manufacturer.
List of pre-made school artwork and school button designs. 500 designs +

* Animals
* Anti-Bullying
* Drug Free
* Educational button designs
* Environment
* French Language
* Good Behaviour Awards 
* I Love School / School Subjects
* Music Button Designs
* Numbers & Counting
* Play Time
* Provincial Flags
* Road Safety
* Special Days/Celebrations (ex: "It's My Birthday!")
* Sports
* Street Signs
* Student Elections
* Uplifting Messages