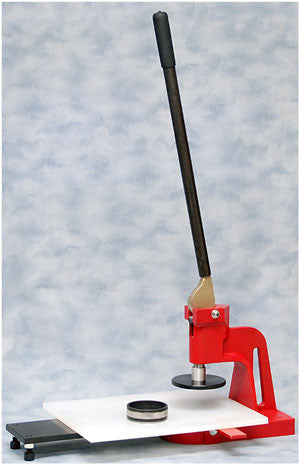 Die Cutting Press for steel rule dies
Die Cutting Press for steel rule dies for professional button making.
The Machine 550 Professional Cutter frame includes: upper pressing plate, plastic cutting plate, extension handle, easy to follow illustrated instructions, and Lifetime Warranty. (everything shown in the photo[left] except the cutter ring) Does not include cutting die.

Product Features
Structural steel and industrial grade aluminum construction
Ergonomic design for operator comfort
Convenient for left, right, or two-hand operation
Cuts through 50 - 60 sheets of paper with ease
Machine 550 frame is made of solid aluminum 
Machine 550 Professional Cutter Specifications:
Weight: 48 lbs.
Size: 17 x 20 x 20 inches high
Made in USA
Go to cutting dies for high volume button production!
The key to good button production is good circle cutting.  Fast accurate circle cutting can make you money. A die cutting press with a good cutting die is the fastest way to cut images for buttons and button making and this press with a die can cut 30 sheets at a time.  But not so fast.  Accurate die cutting may only be 5 sheets at a time depending on the image.  A circle within a circle is hardest to cut, a mm off and you will see the image is not centered.  You are in the right place for fast button making and high volume circle cutting. Good button production requires good quality control as well.  Like I say some jobs you will cut 30 at a time, other jobs you may be back to the graphic puncxh cutting one at a time, it really depends on the image.